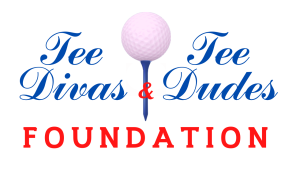 The Tee Divas and Dudes Golf Club  Foundation Thanks You!
Thank you for your support!
Dear Friends,
Thank you for your contribution to the Tee Divas and Tee Dudes Golf Club Foundation supporting our Junior Golf and Scholarship Programs!
Your tax-deductible contribution will go towards providing Junior members with opportunities for training and coaching, casual and tournament golf play, college preparation, and scholarships.
Visit our website to learn more about the TDTD Foundation at TDTD FOUNDATION, the Junior Golf Program at TDTD Juniors, and the Gale James Scholarship at Gale James Scholarship
With deep appreciation and gratitude,
TEE DIVAS and TEE DUDES GOLF CLUB FOUNDATION
Tee Divas and Tee Dudes Golf Club Foundation is a 501(c)(3) charitable non-profit organization. Tax ID 86-3248637.  All donations are tax-deductible within the extent of the law. Keep a copy of this letter for your files.
No benefit was bestowed upon this donor in exchange for this contribution…other than the joy of giving to an organization that supports programs for children!